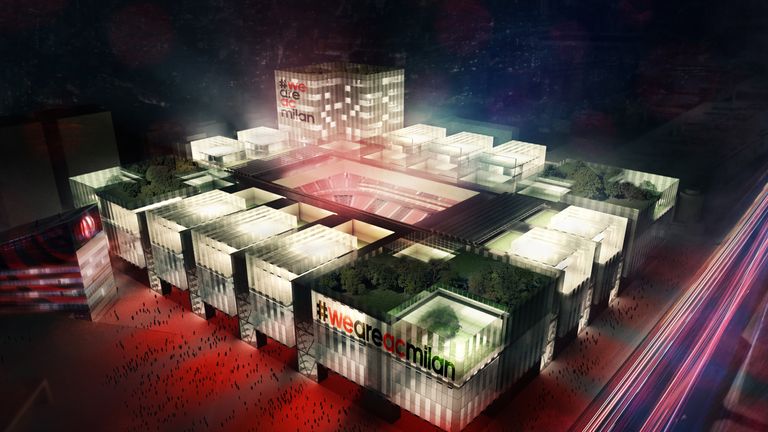 AC Milan have revealed plans for a new stadium design that could see their finances transformed, reports Sky Italia's Valentina Fass.
AC Milan will have a new stadium as of the season 2018-19 - this is the idea at least.
Having a private stadium is the aim of many Italian clubs, but until now only Juventus has managed to achieve it.
The "Juventus Stadium effect" saw the Turin club win every home game on their way to a third consecutive Scudetto – setting a new points record (102) in the process.
But it's off the pitch where the new stadium has really made a difference transforming the Juve's finances – stadium revenues have tripled since the move, from 13m to over 40m euros and the club closed the 2013-14 financial year with a loss of 6.7m euros, down from €15.9m euros in the previous financial year.
A new stadium for Milan would mean enhancing one of the biggest brands in world – and help them catch up with their great northern rivals, Juventus.
There are six projects which are being taken into consideration and a final decision will be taken in the summer.
The latest to be presented is by architects Arup, who designed Bayern Munich's Allianz Arena and the Beijing Olympic stadium.
The idea is to emulate the English model with a stadium close to public transport and crowds closer to the pitch. It will host 48,000 people and be more family oriented.
The social aspect seems to be a priority for AC Milan since the stadium will be in town, close to where the team recently moved its headquarters.
Milan are also keen to ensure the new stadium will not have too much of a visual impact – this would be achieved by digging 10 metres underground.
There would also be sound control: special technology would be used to minimize crowd noise emanating from the stadium during matches.
It would also be very 'green' with a top floor roof gardens while inside the stadium complex there would be a sports secondary school, restaurants, kids' playgrounds and spaces dedicated to young artists.
However, rival projects are equally socially conscious and include a medical centre, a skate park and a musical hub - we'll have to wait and see which project gets the team and town council's approval.
The big question is what will it mean for San Siro?
In the short term, the future of Milan's historic stadium looks safe – it will be hosting the 2016 Champions League Final and AC Milan are committed to helping upgrade it.
Those improvements will include creating shops, restaurants, hospitality rooms and better, more comfortable, seating.
Inter will continue to use San Siro as its home once Milan has its new stadium – but it seems inevitable they will start thinking more actively of having a place of their own.
I read Inter have been looking at a similar thing themselves but if Milan move out they might look to purchase San Siro and redevelop it so they can start making money from it properly.