Back to business in La Liga
Posted by Graham Hunter
What a summer! Spain made history, Barca and Real Madrid rivalries were well and truly set aside in the best interests of La Roja and now La Liga is back in all its glory. We face threats, opportunities, fun, confusion, skill and -- above all -- dramatic entertainment. It's good to be back.
So, as is traditional before the season kicks off, let's look at five things to pay attention to in the short, mid and long term of Spain's La Liga season.
1. How will the contest between wily old Jose Mourinho and debutant Tito Vilanova play out as Real Madrid and Barca go head to head again?
Even those of us who are waiting with relish for the resumption of battle between the two clubs will have to admit it's been an odd, odd "Clasico" summer. Although this will change soon, it's remarkable that at the time of writing Spain's big two clubs have made one signing between them -- that of Jordi Alba, repatriated by his original club Barcelona from Valencia for a bargain-basement price.
Partly that's a reflection of the economy, partly it's an indication that their squads are so bursting at the seams with existing talents and budding youth that they can afford to sign sparingly and partly it's the case that it is becoming interestingly complex to beat petro-dollar-funded Chelsea, Paris St. Germain and Manchester City if a truly world-class talent becomes available.
Barca wanted Thiago Silva, Real Madrid wanted Lucas Moura and PSG beat them both. Oscar dos Santos, who joined Chelsea, was another who attracted the decision-makers at the Camp Nou and Bernabéu.
Just as intriguingly there has been a shifting of the plates in managerial relations between Barca and Real Madrid.
No need to introduce Jose "I-used-to-be-known-as-the-'Special One'-but-I-should-now-be-known-as-the-'Only One'-because-nobody-has-won-the-title-in Spain-England-and-Italy-except-me" Mourinho. What a baptism service his must have been.
But Tito "The Marquis" Vilanova will be relatively new to most of you. Inheritor of Pep Guardiola's office at Barca, he is a tall, elegant, often quiet-spoken guy who shares only some of his predecessor's traits -- hopefully, for Barca, the right ones.
A footballer of talent who nonetheless only managed a moderate career, his "Marquis" nickname dates from his younger days when he was a stickler for things being perfect. Prepare well, play elegantly, always seek to have the best playing surface, laces done up tightly, the football properly inflated and, then, dress with elegance off the pitch.
So he's the long, languid figure you always used to see next to Pep in the technical area at games and it's important what you used to see him doing.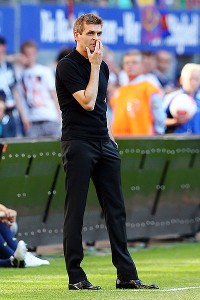 The Barcelona-Real Madrid rivalry takes a new twist now that Tito Vilanova is in charge at Camp Nou.
Vilanova was no cipher. His is a creative, constant and interesting football brain. The Marquis was always channeling ideas and constructive criticism to Guardiola over the past five years; one, with his friend in charge of Barca; and, two -- and most important -- the ideas were almost always put into practice by his friend and boss.
You also know Vilanova from that outrageous incident a year ago when Mourinho jabbed his finger into the Catalan's eye during a meleé at the end of the Spanish Supercup as Barca won an epic match against Madrid 5-4.
So, the schadenfreude about them meeting head to head next week in the first leg of the same competition was running at fever pitch over the past few weeks -- until some common sense broke out.
Vilanova bared his teeth and snarled at local reporters when it became a "scandal" that both Mourinho and he had their Spanish Football Federation bans wiped out as a grace and a favor by Federation president Angel Maria Villar.
"We will be forever punished by the television images of what we both did that day, the ban is lifted and I can't understand why you are still talking about an incident which was a year ago," the new Barcelona boss argued. "It's time to move on."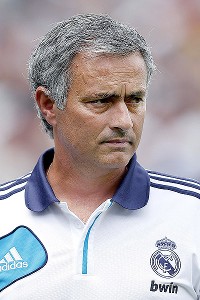 Call him the Only One: Jose Mourinho has the strongest squad, position for position, in football. And he knows it.
Good start.
Then, miracle of miracles was that Mourinho "mea culpa" issued from the North American preseason training camp which has been so successful and so tightly run by Los Blancos.
"I obviously should not have done what I did, obviously not," admitted the Only One. "But I am not an idiot who does something without a story behind it that led me to lose control a bit.
"I work a lot with my players on exactly that, on controlling emotions, on concentrating on playing and playing well. But there I failed and I am not looking for excuses. If I failed, I failed."
Admission of error and humility may be part of the "private" Jose Mourinho but we don't see them often when he has his football body armor on. For the moment, at least, it sets a tone.
You see, in Mourinho's normal lexicon Vilanova is the seal pup and he's the killer whale. Vilanova is a little exposed -- the past four years have been astonishing, Guardiola leaves a huge imprint and his departure will destabilize some. It's Vilanova's first experience of sole control at this level at a time when there are the first seeds of doubts planted about the squad's competitiveness since mid 2008. He has a sizable task.
You'd have expected Mourinho to go for the throat and put Vilanova under pressure, attempt to get a flying start psychologically in as many areas as possible -- but certainly in the media battle.
Partially it may be an indication that Mourinho is uber-confident about his robust, talented, slightly younger squad, which was a winning machine last season. Partially it may also be that it impacted the Portuguese, just like the rest of the football world, when Vilanova needed a five-hour operation to remove a tumour from behind his saliva gland last November.
Whatever.
For their part, Barcelona appear to be adopting something of a "fingers crossed" approach to what they can expect from key players like David Villa (whose broken leg has cost him more months than originally expected), Carles Puyol (who had his second knee operation in as many summers), Eric Abidal (who wants to return to action in December after his liver transplant) and Xavi (who will be an absolute key player but who does suffer from a chronic Achilles problem).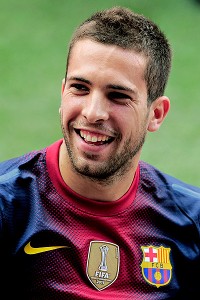 In a quiet transfer window (so far) for Real and Barca, the biggest move was Jordi Alba's arrival at Camp Nou.
If all the pieces fall in place for Barca then they not only, still, possess the best XI in the world, they'll win either La Liga or the Champions League again.
If not then they may be overstretched.
Thus Madrid probably deserve to start as narrow domestic favorites because there is so much about the Camp Nou season which remains either unknown or at least open to doubt.
I made it clear last season that Madrid played intelligent, athletic, remorseless and often very entertaining football. It's unlikely that they will do anything other than take a further step forward again this season. Truly, it shapes as an epic season.
What is pleasant, thus far, is that the looming battle hasn't needed a war of words, simmering resentment and tit-for-tat insults between the two managers. It all promises to be both intriguing and great fun.
2. A grim summer for Athletic
Because this has been an Olympic summer, we've had to grow more used than normal to people drumming out the message that second is nowhere.
Loserville.
"I only wanted gold." "Silver means nothing." You know the script.
But the color range in triumph is wider than it is in the simple win-loss equation.
No one can tell me there wasn't merit in Italy's second place in the European Championship. Nothing about the defeat to Spain in the final could eradicate the attacking flair with which Cesare Prandelli's squad lit up the tournament.
There was a similar golden hue about Athletic Bilbao's bridesmaid status in the Copa del Rey and Europa League last season. They didn't win either competition but played with such verve, dismissing Manchester United from Europe in five-star style, that they dramatically heightened their profile and won major tranches of new fans.
But to convert silver to gold meant that the Basque club needed to kick on this season -- take at least one scalp from four meetings with Barcelona and Real Madrid, qualify for the Champions League, win the Europa League or the Copa. Make incremental progress.
On which basis the time from Marcelo Bielsa mumbling his downbeat, self-recriminatory answers to us in the Copa Del Rey final news conference in the Calderon late on May 26 until now has been ill-spent.
From the delay in re-sculpting the club's Lezama training ground, to the president's admission that it was an "institutional disaster" that they couldn't find a way to make Fernando Llorente renew his contract, it has been an epic and fractious summer and the worst way to prepare for a renewed assault on the club's first senior trophy since 1984.
Back in May, Bielsa blamed himself for not getting his tactics right, for believing he could inculcate his tired squad to play a particular way but not achieving it while also admitting his disappointment that his players hadn't implemented his game plan.
He patently wasn't sure whether or not he had the appetite to stay.
But commit he did. However, by July, he was physically assaulting the lead foreman on the remodeling of Athletic's Lezama training ground -- their lush, verdant training facility in the hills above Bilbao, close to the city airport.
In a tense and bizarre news conference he pointed out that the work, which was badly behind schedule, had been done so willfully badly that, in his words, it amounted to "fraud, theft and deception."
He confessed that he had completely lost his temper and been abusive to the boss of the works -- and partially blamed the club for showing laxity in project management.
This is a man whose attention to detail is not only legendary but makes Pep Guardiola look easy-come-easy-go about preparation. Imagine his fury when the facilities looked like they were being mismanaged and wouldn't be prepared for the preseason work.
The club, however, didn't appreciate him blaming them in public and hit right back. For a time the relationship between the volatile, eccentric Argentinian coach and the popular club president, Josu Urrutia, was so bad that it looked like Bielsa would get his marching papers. Or indeed that he would stomp out the door of his own accord.
But an uneasy peace broke out, Bielsa was retained despite something between the two men, in my opinion, becoming irrevocably fractured.
In the background there was being played out Barcelona's very obvious overtures to Javi Martinez, a player who has an extended contract and a ¬40M buyout clause. However that issue was about to be trumped.
Llorente and Urrutia found it impossible to reach agreement over terms for a contract renewal and, with Juventus, amongst others, buzzing around the striker, the club made it clear that, with only one year left on his deal, the doomsday scenario of Llorente playing for a year with fans turning against him and then leaving for free was a distinct possibility.
And should the club and the player accept Bayern Munich's aggressive (record) offer for Martinez then the Rojiblancos will have seen their two key assets either sold or disenchanted with the club within a matter of days.
Athletic are adored, or at very least highly respected, by many outside of their fan base for their proud policy of only recruiting Basque players, who want to play their entire careers there. A couple of years ago Spain international winger Joseba Etxeberria insisted on offering a final year of service to the club without any wage as a gesture of love and loyalty to Athletic.
But the rest of the squad will be watching hawkishly for how the issues with Bielsa, Martinez and Llorente are handled -- particularly with the often traumatic move from old stadium to new scheduled to happen from the beginning of next season.
Next week begins the crucial process of eliminating HJK from the Europa League and reaching the group stage. It's well within their range but it isn't simply for financial reasons that Athletic need to punch their weight.
Institutional and sporting confidence took a buffeting during their 6-0 aggregate Cup finals defeats back in May. Nothing since then has done anything to assuage that pain. It's time for Los Leones to fight back, it's time for the Lions to start roaring again.
3. Malaga -- Disintegration of a Dream?
Normally you can bet on the question which will most bug a football reporter during every summer and the month of January.
"Is my club signing Messi?"
"When will Ronaldo declare his undying love for Stoke City and move here?"
Or the new Twitter favorite: "What do your hear about Sahin? Modric? Tello?"
But this summer broke the mould. It has all been about Malaga.
Why are they selling Santi Cazorla? What the heck is the owner playing at? Do they actually have any money? Can my club jump in and pinch Isco?
These are the most often asked questions I've had to face this summer.
For those of us who yearn to see increased pluralism in La Liga, the deflating of the Malaga bubble is a despondent sight.
Behind the scenes it started months ago with late payments to other clubs from whom players had been bought -- Osasuna for Nacho Monreal is just one example. Late or complete non-payment of wages followed. Late or non-payment of tax to the Spanish government was the culmination of what, at the time, was simply an idiosyncratic approach to concepts of time, honor, promises and good housekeeping by Malaga's relatively new owners.
Sheikh Abdullah Al-Thani liked to filibuster to the last moments on administration but was, generally, able to swoop in (or give the green light to underlings) to get things sorted. But then, sadly, his extremely popular and able inside man on the board, Jose Carlos Perez, died suddenly at 63. That was in January and within a couple of months the legendary former Spain and Real Madrid libero, Fernando Hierro, who had previously been Vicente Del Bosque's technical director for the Spanish Federation at the South African World Cup before assuming the same role at Malaga, quit the post at his hometown club which, over the last few months, he'd held with grace and intelligence.
Hierro is a pure football man -- tough of mind and word if you cross him; smart, thoughtful and straight if you just work for the good of the game. He quit Malaga full of sadness but he couldn't stay at a club where he was uncomfortable about how things were being handled.
Two key men were gone -- Al-Thani was in the huff and an absentee owner -- and the rot set in. A dearth of information and decisions suddenly became more than a power vacuum -- more like a potentially fatal downward spiral.
Debts everywhere, players (Cazorla, Mathijson and Rondon) began to use the football authorities to formally pursue unpaid wages and three specific threats hung over the club -- expulsion from La Liga, expulsion from the Champions League and, or, a transfer ban.
Cazorla was sold so that the taxman could be paid, and there remains a severe doubt over whether the owner either wants, or wants to fund, the continued services of the quite excellent coach Manuel Pellegrini. Rondon has gone, reinvestment in players was temporarily banned until the tax debt was reduced and Malaga's ability to retain the sparkling young Isco remains in doubt.
At the time of writing it's not quite total implosion but any hope that there might be a consolidation and forward movement, a la Paris St. Germain or Manchester City, has been utterly dashed.
By his own admission one of the things which has stripped the shiny, sparkly feel of owning a top Spanish club away from Al-Thani is the realisation that buying Malaga and funding the initial splurge on transfers won't be met with the kind of revenue boost which will make the club anything like self-sustaining.
Meeting UEFA's Financial Fair Play targets is vital for a club with UEFA aspirations (Europa League or Champions League) and that implies that the said club needs more than a sugar daddy -- it needs balanced and firm revenue streams to give equilibrium to expenditure.
One revenue stream is, obviously, TV rights -- but that cash cow is already divided up with the big two teams in Spain getting all the prime cuts. Clubs like Malaga are left with the tail and the hooves. They might make soup but there's no a la carte dining.
If Barcelona and Real Madrid continue to make 10 times more money than the rest from the televising of live football then their competition won't simply diminish, it will melt away like snow on the side of the road on a sunny March day.
Al-Thani's actions (or at least those of his club) this summer have been ill-mannered, damaging and crude. However his frustration at the iniquity of Spanish football finances is something shared widely around this peninsula which is so rich in natural footballing resources but, now, a bit strapped for actual cash.
4. Accentuate the positive, eliminate the negative
OK, let's breathe deeply for just a moment and pretend the world is not under assault from financial crisis after financial crisis, that football in Spain is not under threat from fan and owner dissatisfaction and that La Liga isn't beginning to suffer a brain drain to the EPL.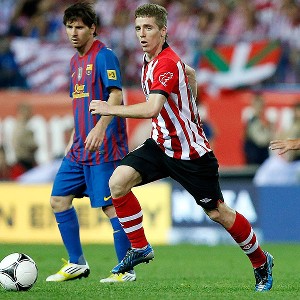 Athletic's Iker Muniain is one player who promises thrills this season.
Let's reach out for the positives. This is the season, I hope, of us thrilling to Jonas (Valencia), Iker Muniain (Athletic), Isco (Malaga), Varane (Madrid), Canales (Valencia), Paco Alcacer (Valencia), Sergi Roberto (Barcelona), Beñat Etxeberria (Betis), Jordi Alba (Barcelona), Alvaro Vazquez (Espanyol), Jese Rodriguez (Madrid), Deulofeu (Barcelona), Ramalho (Athletic) and Juanmi (Malaga).
They are a mixed bag: 18 at the youngest, 28 at the oldest -- a clutch of players who I hope to see beginning to punch their way into senior football, or consolidating after a breakthrough season and, in the case of Jonas, demonstrating that he has become a truly class act, capable of dominating Valencia's season.
Without analyzing every single one (they are names for you to follow) let's handpick a couple.
Canales is an absolute class act, a Rolls Royce footballer who has had axle and suspension problems. His injuries at Valencia have been horrific and I don't expect to see him back in full developmental spate for some months. But it's to his benefit that he's signed for Los Che, it's to his benefit that he's finally injury free and it's now time to make up for lost ground by learning, showing maturity, winning friends in the fervent Valencia support and enjoying better fortune with injuries. Top player, this one.
Beñat is a slightly different kettle of fish. He's a slightly late bloomer in that last season was easily his best yet he has already turned 25. So important was his ball-winning and ball-using capacity at Real Betis that Spain coach Vicente Del Bosque very nearly included him in his European Championship squad. Likable, energetic and busy he's the Spanish Rino Gattuso but with slightly less pit bull and slightly more football in him. He'll be fun again this season.
So, follow the kids. The reason I identify most of them is that they are iconic of the current Spanish era. Quick, technically gifted, full of natural flair and well trained.
But just before leaving the subject allow me an indulgence. Welcome back to Spanish football to the mighty, the funny and the much missed Joan Capdevila. European Championship winner, World Cup winner and new signing at Espanyol (his hometown club) this is one of the great character of modern times in La Liga. Larger than life and now slightly larger, too, it's a sheer joy to have him back. Benvingut a casa, Joan (Welcome home!).
5. La Roja -- What next?
I spent the vast part of the summer having predictions borne out and working with that legendary group of men run by Vicente Del Bosque as they won their third straight continental and world title to make history.
Spain not only took on all comers, they put all problems aside (tiredness, injury absences, packed defenses, occasionally badly strained relationships between Real Madrid and Barca players) and they simply muscled their way to the title.
Already they have been sent on their travels to Puerto Rico on one of these money spinning friendly trips which enrage the clubs, tire the players and which, to me, seem like a bad joke.
After the last tournament victory Spain went on a little tailspin in friendly matches but were ruthless in qualifying. Can they eradicate the former while maintaining the latter? Can they subsume and assimilate the lessons from the cataclysmically bad performance of the Olympic squad so that conclusions are applied positively?
And above all, with new talent bursting through and the potential return to form and fitness of David Villa and Fernando Torres, can Spain start a march forward from October when they play their old enemies France toward winning a second consecutive World Cup in Brazil?
It's not impossible and the evidence will start compiling itself within a matter of weeks.