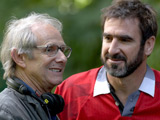 Eric Cantona was a legendary goal-scorer for Manchester United in the '90s, but he was banned from the game for nine months after practising a kung-fu kick on a member of the crowd. He later held an extraordinary press conference in which he made an obscure comment about hungry seagulls. Perhaps we shouldn't be too surprised that he's teamed up with social-realist director Ken Loach for the much-acclaimed Looking For Eric. DS hears from Loach and Cantona about their shared vision and the significance of seagulls.
Eric, what was it about Ken that made you want to work with him?
Eric: "It was my two brothers, Jean-Marie and Joel, who wrote two pages of a story. They wanted to make a movie and we went to a French production company called Why Not, and the first name we put on the list was Ken Loach. It was a dream for all of us, but we tried and we met Ken, Paul [Laverty, screenwriter] and Rebecca O'Brien [producer] and they read the two pages and they said it was very inspired and with that we can do something. Paul had the freedom to write his own story which was better than the one we showed him."
What was your reaction, Ken, when you were approached by Eric?
Ken: "We thought it was a leg-pull really. We didn't believe it was true. I mean the reality was that Paul and I would have swum the English Channel to meet Eric... but it turned out to be true and it was very interesting because Eric's thought was to make a film about his connection to the fans which, as you know, is very special. We wondered for a little while whether we could really pull it off because you can't just make a film about someone because you admire their personality and skill, there has to be a real core and content to the film. Then Paul wrote the character of Eric Bishop and that was really the key that unlocked the set of relationships and the narrative and the imaginary connection to Eric [Cantona]."
Eric, you also reveal a talent for playing the trumpet in this film.
Eric: "Well, when I was banned [from playing football] for nine months I needed to focus on something else. I admire a lot Miles Davis and Chet Baker, and I like the sentiment, so I tried it. I practised for a few months and I stopped after. And then, when I spent time with Paul, speaking about different things, about life, he said, 'I don't know how, but it will be in the script.' So, just before shooting I started again, just for a few days. I tried my best."
Do you also see yourself as a bit of a philosopher? When you were banned you made that famous comment about seagulls following the trawler...
Eric: "I'm not a philosopher... No. Everyone tries to analyse what I said at the press conference about the seagulls, but I didn't want to give sense. I just wanted to put [across] the words. I think anybody can find sense in any situation; the meaning was not in the words, the meaning was just that I came in front of you and said something that means nothing. It's because they tried to make the situation very serious and I think, in life, there are plenty of serious things, but I don't think the world of football it's so serious. It's important to have distance from things about yourself. If we believe we are king or God we become crazy. Football is a game we all enjoy together because we all know it's just a game."
Ken, there are more serious issues underlying the film. The issue of youth violence and gun crime...
Ken: "I think it is a huge issue, particularly the issue of guns. Paul spent some time with the mothers who tried to keep their kids away from violence. I think, yes, violence is a great problem in society. Why? Well, we've built a society which is built on aggression, on greed, on acquisitiveness, we've destroyed the method, or the pattern for young people becoming adults. Centuries ago when I was young, a lad would become an apprentice, he'd be sent for a left-handed screwdriver, and things like that were a way of absorbing young people into the world of adulthood. We've destroyed all that and now we're surprised when kids who have no visible future, and who want all the things that we're told we're need, resort to violence or guns."

_________________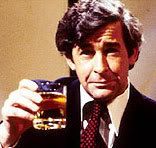 Quote:
Goodnight, thank you, and may your god go with you