Pirlo was always a great player for Milan bar a year or two where he underperformed - I'm still stunned we let him go last year - and naturally it bit us in the nuts at Juve. I'd really like someone better than Silvio Berlusconi to be the owner there
The magnificent Pirlo
Paolo Bandini on the brilliant performances of Andrea Pirlo that have seen the Italy midfielder come into contention for the Ballon d'Or
June 29, 2012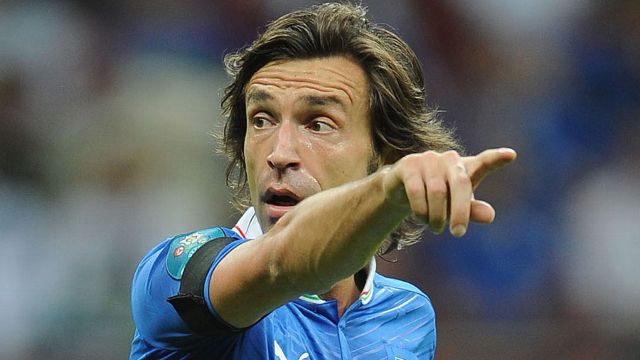 Andrea Pirlo has been in sumptuous form for Italy during Euro 2012© Getty Images
Even Gigi Buffon was awestruck. "When I saw him play, I thought, 'There is a God'," the goalkeeper said after watching Andrea Pirlo mark his league debut for Juventus with two assists in a 4-1 win over Parma last September. Nine months later, the rest of the continent is experiencing a similar revelation. With a string of immaculate performances, Pirlo has led Italy to the promised land of a European Championship final.
"The only thing missing now is for [Pirlo] to start multiplying loaves of bread and fish," a breathless Sebastiano Vernazza declared in Friday's Gazzetta dello Sport. The midfielder has amply demonstrated his capacity for footballing miracles over the last three weeks – whether it be conjuring a through ball to slice open a Spanish defence that has not conceded since, or on Friday night transforming Germany's lauded midfield into hapless bystanders.
Following the elimination of Cristiano Ronaldo's Portugal against Spain, Euro 2012 feels more and more like Pirlo's tournament – one in which his contributions will be remembered over those of any other individual. Already he has provided a signature moment in the form of the chipped penalty – the 'cucchiaio', as they would have it in Italy, or 'Panenka,' to the rest of the world – with which he deceived England's Joe Hart.
Taken on its own, it was an act of impudent genius, a strike to make you gasp or even laugh out loud at its preposterous brilliance. But in the context of a match in which Pirlo had already been brilliant for 120 minutes, it was a gamble of grand proportions, akin to a poker player going all-in pre-flop with a mediocre hand. Had Hart called the bluff then Pirlo, like Roberto Baggio in 1994, would have departed as an undeserving scapegoat. Instead, England folded.
From Pirlo's perspective it was a calculated risk. Such a tactic has backfired on him before, with Jose Manuel Pinto standing his ground and plucking his shot out of the air during the pre-season Gamper Trophy meeting between Barcelona and Milan in August 2010. This time the midfielder felt he had a read on his opponent. "I noticed Hart was doing strange dances on the goalline," Pirlo told reporters. "He was moving before [the penalties were taken]."
But if Pirlo believes his spot-kick turned the tide of the shootout, Italy must thank him more for the fact they were able to reach that point. As well as providing the assist for Antonio Di Natale against Spain, it was he who struck Italy's only goal against Croatia, before delivering the corner from which Antonio Cassano opened the scoring against Ireland.
More than that, he had dictated the tempo for the Azzurri – a fixed point at the heart of the side. Before the semi-final, Bastian Schweinsteiger named Pirlo as the Italian player he'd most like to have join him at Bayern Munich. The Germany manager, Joachim Low, also identified Pirlo as the one his team must restrict to succeed.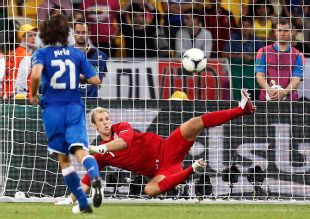 Pirlo executed a gorgeous Panenka penalty against England© PA Photos
Instead, Pirlo finished the night with more touches than any other Italian player as well as the highest number of completed passes (70) on his team. If Mario Balotelli was the star of the show then this was a production that would not have come together without Pirlo's expert direction. The newspaper La Repubblica described him as "our on-pitch manager".
Germany could not stand accused, as England were, of failing to devote adequate resources to restricting Pirlo, with Tony Kroos, Mesut Ozil, Schweinsteiger and even Mario Gomez all adjusting their games in a bid to restrict his space in midfield. The simple truth is that he is just not that easy to contain. All season, Juventus' Serie A rivals have been concocting schemes to counter the midfielder. Very few have succeeded.
Schweinsteiger, while praising Pirlo before the game, had adopted a disparaging tone when referring to his age, suggesting a 33-year-old could hardly be unstoppable. Yet if it would seem logical that Pirlo's modest mobility should make him easy to contain then the truth is that in some ways age has rendered him more effective rather than less. Never particularly blessed with pace in his younger years, Pirlo is smarter now about how to make up for it.
There is a sense, too, that Pirlo is enjoying defying his critics – drawing fresh motivation from the speed with which many wrote him off after a difficult 2010-11 season at Milan in which, hindered by injury, he struggled to even get into Massimiliano Allegri's side. Had he needed any fresh ammunition for the semi-final, he might have got it too from the Frankfurter Allgemeine Zeitung writer who insisted Germany could not fear a player who "doesn't just have hair like a girl but a name like a girl too."
Instead of being consigned to the scrapheap, he is now being discussed as an increasingly realistic candidate for the Ballon d'Or, having already been the single most important performer in a Juventus side who went from consecutive seventh-place finishes to unbeaten champions following his arrival. Lionel Messi will be the favourite after another record-shattering season at Barcelona, but were Pirlo to lead Italy past Spain on Sunday, his case could become compelling.
Not that Pirlo himself is convinced. "It's impossible to get ahead of Messi and Cristiano Ronaldo," he responded when the prospect was put to him this week. "Those two are a way ahead of everyone. There is no discussion."
Others would beg to differ, not least the numerous team-mates who have publicly backed his case over the past few days. Part of that is borne out of sentimentality too, of course. Much as with Martin Scorsese before his Oscar award for The Departed in 2006, some feel that Pirlo might also just be overdue the recognition.
Either way, for now Pirlo has only one goal in mind. "We came here to win the European Championship," he insisted in the immediate aftermath of victory over Germany. "It is time to turn our heads to Spain. I want a great final." If he can simply maintain the performances shown so far at this tournament, it is hard to see how it wouldn't be.
© ESPN