Go on then - who's going to win it?

Philip Cornwall: I have a feeling Holland will banish World Cup final memories despite facing the hardest group.

Rob McNichol: I'm going to be staggeringly dull and say Spain. Their best players haven't got any worse.

Nick Miller: I guess the smart money is on Germany or Spain, but my money is rarely smart. France could be either brilliant or utterly awful, but I'm going to be sunny & optimistic, hope their defence holds out & pick them.

John Nicholson: Germany. Virtually playing at home and at the peak of their powers. Inevitable.

Matt Stanger: Germany. The defence is a concern but having to progress from the hardest group will help them in the knockouts.

Tim Stannard: Spain - it's a case of guess, second guess, third guess myself before going back to the first option. Going to be unoriginal and choose Spain although I'd sneak Germany as a stronger, less tired, more motivated and better prepared outfit this tournament. However, Germany's group is not just 'death' but slow torture, an afternoon with David Guetta songs, then death. One dodgy half of football could spell the end of their challenge. Hence the safer option of Spain.

Daniel Storey: Germany - a young hungry squad with two years experience since South Africa. Their front six is as good as Spain's (minus Villa) and their route to the final whether first or second in their group is a dream.

Alan Tyers: Germany to win. Young, gifted and hungry. Which would have been a much worse name for a song.

Sarah Winterburn: Germany. There's quality right through that side and they have der testickels to unseat Spain.


And who will they beat in the final?

PC: I'll say Germany, because that would mean a first-round exit for Cristiano Ronaldo. I have no great hopes for England and it's always nice to have a dream at the start of a tournament.

RMcN: Germany. Sticking my neck out again, there, obviously.

NM: Spain, having bested Germany in the semis.

JN: France who will play the best football and score the most goals.

MS: Spain. They should top Group C, but similar to the World Cup it will be a series of slender victories until the final.

TS: This involves staring at the wall chart and having to think. Germany v Spain final.

DS: Spain - Too good to not go far, but without Puyol and Villa, missing some of their spine. Soldado,Llorente, Torres and Pedro. Which two they pick wi define their chances.

AT: Holland in a dirty encounter. Red cardsh dishtrichtsh.

SW: They'll beat Spain in the semi-finals in a classic and then France in an anti-climactic final.


Who will be the top scorer?

PC: If I'm right about Holland then Robin van Persie will have to play a part. And he's in the shop window...

RMcN: Not a Spaniard, as they tend to win 1-0. With a run to the semis, I'm going to say Van Persie carries on his amazing form from the season just ended.

NM: Karim Benzema. If you were a betting shrewdy about a month ago I'd suggest an each way bet on Robert Lewandowksi at 40-50/1, but the price has halved now. And no, I wasn't shrewd enough to do this myself.

JN: Karim Benzema. Seven big ones.

MS: I've backed Thomas Muller at 28/1 so I'm hoping he rekindles his form from the World Cup. He's only scored 11 goals for Bayern Munich this season, but he's a regular for Germany and will have plenty of chances.

TS: I've got a sneaky feeling France might do rather well and Karim Benzema to pick up top scorer gong with five goals. Three against England probably.

DS: A lot of man love for Mario 'the Roman Statue' Gomez, despite his CL final performance. If he bottles again, Van Persie is in too good form not to score. A dark horse is Robert Lewandowski.

AT: Miroslav Klose.

SW: Mario Gomez would be the logical choice but I have a fancy for Karim Benzema.


And - sigh - go on then, how will England get on?

PC: I fear a pointless journey to Donetsk - either because we're out before we play Ukraine, or because we'll be tonked by Spain in a quarter-final.

RMcN: Second in our group means we'll play Spain in the quarters, and we just aren't good enough to beat them. Not in a proper game.

NM: Can genuinely see out at the group stages. If not, beaten by Spain in the quarters.

JN: Lose 2-0 to France and 2-1 to Ukraine, traditional 1-1 with Sweden. Exit at group stage.

MS: It won't be pretty but the borefest will be enough to get them through to the quarters, where they'll lose to Spain. I can't see England creating many chances and Roy Hodgson's biggest problem is how to change the system when they go behind. I think it will happen twice - against France in the opening game and again in the quarter-final, with both matches ending in defeat.

TS: Sitting hundreds of miles away with a bit of perspective, feeling fairly neutral away from the doom and gloom or tabloid euphoria doesn't make things look any better for England. Out in the group stages with just two points. Defeat to France, draws against Sweden and Ukraine.

DS: Out on goal difference in the group stage. Lose to France, draw with Sweden and beat Ukraine by one to just not be enough.

AT: Out at the group stage: lose to France, draw the other two.

SW: Through the group stages with relative ease and few goals. And then defeated by Spain (narrowly) in the quarter-finals. Pride intact.


Which big boys will crash out with egg all over their big boys' faces?

PC: Portugal. Though Ronaldo's face is more a little boy's.

RMcN: I don't fancy any 'big' teams to fail to get out of the groups, but I reckon we could see Italy get a duffing off of a resurgent France in the quarter finals. (Although I would like to point out for legal reasons that no Italian players have given me any information about this whatsoever).

NM: Either Croatia or Ireland could nip in ahead of Italy in that group.

JN: I am hoping Spain get a kicking but Portugal seems a better bet for awfulness.

MS: Italy. They have problems in defence and are distracted by the latest match-fixing scandal. Antonio Cassano was their top scorer in qualifying but only returned to first-team action at the end of April after undergoing heart surgery and we all know that you can't rely on Mario Balotelli. Ireland have tested them in the recent past and could sneak a valuable win.

TS: Holland - I feel they will be caught between the two extremes seen in previous tournaments of total football and being pragmatic whilst kicking lumps out of the opposition and end up being slipping out in the group stages.

DS: Portugal will miss out in a group if death, and I think Italy will be pushed by Croatia, but maybe just squeak through. England are not a big boy.

AT: Because I don't count England as a big boy, I'm predicting an upset for Spain.

SW: Do Italy still count as big boys? I think Croatia will get out of that group ahead of Italy.


Give us a pick for your surprise package of the tournament, player or team.

PC: The referees will get credit rather than blame for a change.

RMcN: I think Greece will get out of a weak Group A and then go heartbreakingly close against the Germans. Alex Oxlade-Chamberlain could become a star in the next month, and outside of our shores Llorente of Spain, with Villa out, could announce himself to those who don't watch Channel 5.

NM: Not sure, having won the Bundesliga twice, Lewandowski counts as a surprise package, but he'll nab a few goals in a weak group. Holland will surprise people by being quite an attractive team, not the thugs of two years ago, while Dennis Rommedahl will surprise people by only being 33, when everyone assumed he was in his mid-50s.

JN: I fancy Poland to do well as the best of the home nations controversially reaching the semi-final and for Robert Lewandowski to be rather super.

MS: Russia should finish top in Group A and they are a tough, experienced side. At 21, Alan Dzagoev is the youngest player in Dick Advocaat's starting line-up by some way and the playmaker will need to perform if Russia are to get past the quarters. If they face Holland, I think they stand a chance.

TS: Despite still playing Helder Postiga up front - although still capable of the spectacular goal - the very in-form Ronaldo to take Portugal quite far. Not exactly a surprise though. On the Spanish front look out for the wonderful Spanish playmaker Santi Cazorla. Looks like a chip monk, plays like a champion.

DS: Fancy Poland to do well (although that's only really second round). Dortmund boys Lewandowski and captain Blaszczykowski should perform at home.

AT: I fancy Andrei Arshavin to have a good tournament.

SW: There'll be an awful lot of people saying the name of Robert Lewandowski (wrongly) by the end of June.


Zlatan - is he more likely to be player of the tournament or sent home in disgrace after roundhouse kicking someone in the head?

PC: He'll pick up a cricked neck admiring himself in a mirror and miss a couple of matches.

RMcN: Can't he do both? I'd say he nicks a goal or two in the group, they go out and then he retires from international football. Only to return at the World Cup.

NM: Both. He'll celebrate scoring the goal of the tournament by roundhouse kicking John Terry's head clean off his body.

JN: The Z Man will never live up to how magnificent he is in his own head. To the rest of us he'll look ok but nothing special and we will still love him for it, for he is Z Man.

MS: He'll score against England and then become our new national hero for headbutting John Terry.

TS: Sweden to be knocked out in the quarter-finals but Zlatan to actually do ok, but still moan that his country would have got further had he been cloned ten times beforehand.

DS: Doesn't perform in big games does he? Goal against Ukraine his only meaningful contribution.

AT: Zlatan will make love to you like animal then you sorry.

SW: The latter of course. Though as always, the truth probably lies somewhere in between.


Predict the awfully clever headline The Sun/Mirror/insert favourite paper here will use if Roy makes an awful mess of this.

PC: "Stodgson!" as we rack up goalless draws. "Fu-roy!" as he expresses mild disappointment at someone breaking curfew by a couple of minutes.

RMcN: "Terry-ble". Because it won't be Roy who mucks it up, it'll be JT.

NM: No headline, just an image of him as a donkey/swede/turnip hybrid, lying in the gutter, with Harry Redknapp dressed as St George, standing over him.

JN: Hodge Podge, Roy Of The Rotters.

MS: 'A ROYal mess', or how about 'HaemoROYds: Hodgson's tactics a pain in the arse'.

TS: Phew!

DS: Positive - Hodgson seranades England with his Euro vision, Roy-al Male delivers on time. Negative - I dont want to think of any, it makes me sick just contemplating the horror. And if we win our last group game to qualify for the knockout 'Roy predicts sunshine after Ukraine'

AT: After drawing with Sweden, Hodgson will be Photoshopped to look like a Swedish meatball. Headline: Flat-pack prat Woy has no Ikea.

SW: Roy Of The Overs.

_________________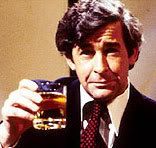 Quote:
Goodnight, thank you, and may your god go with you